"Is there anyway to convert videos to HTML5 for my website? I want to upload videos to my website, but the videos must be HTML5 format. How can I make it? Is there any way to convert my videos to HTML5?"      —— Answers Yahoo
We are in the midst of a revolution, one that will end with virtually all online video being hosted in the HTML5 format. While there are still many websites that host video in Flash, nearly all new development projects are HTML5-focused, leaving you with finding a way to easily convert your videos to HTML5.
Don't worry, you can turn to Easy HTML5 Video which convert almost all videos including the latest .HEVC (H.265),.VP9 (Google VP9) to (WebM, OGG and MP4) HTML5 files for browsers like IE, Firefox, Safari, Google Chrome and Opera etc and iOS and Android devices as well.
Tips; If you want to convert videos to HTML5 on Mac, you can turn to Easy HTML5 Video for Mac.
Step by step to convert videos to HTML5
Step 1: Load videos
Click "Select new video" to browse your computer to select the videos you need to convert. You can also directy drag and drop videos to HTML5 Video Converter.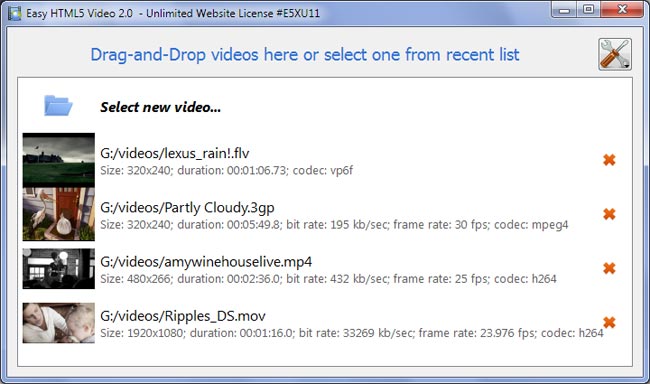 Step 2: Select HTML5 as the output format
Select poster image (click "Custom Poster", if you want to use another image as a poster, not a video frame), change video title, enable/disable "Auto play", "Controls", "Loop". You can also set video size, resize method, video quality select support for desired browsers and change the watermark.
You can select your desired output HTML5 format like WebM (HTML5), MP4 (HTML5), OGG (HTML5), MP4 (Flash Fallback) and MP4 Low Res (HTML5)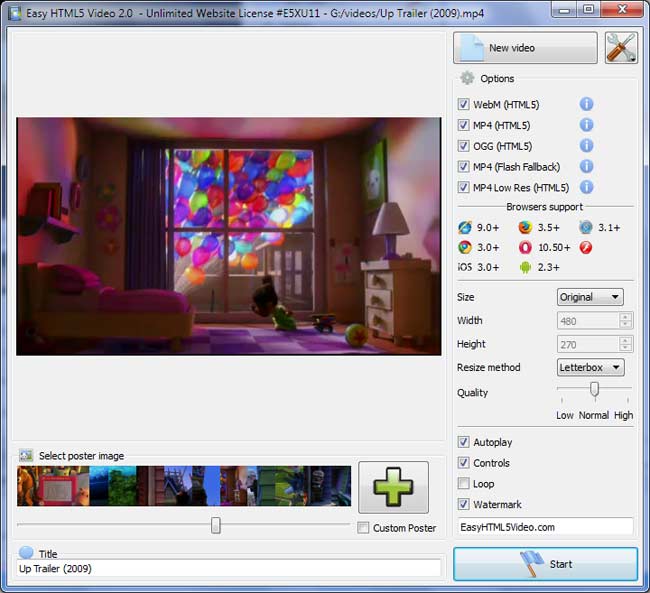 Tips: The maximal video resolution for most smartphones is 640×480. If you want your video be compatible with smartphones, make sure that "MP4 Low Res (HTML5)" option is enabled in Easy HTML 5 Video. It can generate .mp4 file with low resolution for smartphones.
After that, click "Start" to begin converting videos to HTML5.
Step 3: Publish HTML5 video
Now you can publish your website video online or to a local drive for testing. Select the publishing method: "Publish to folder", "Publish to FTP server" or paste video into existing html page using "Insert to page" option.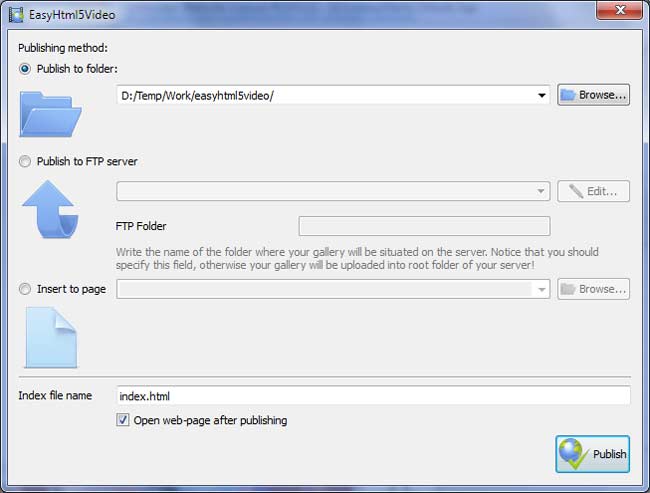 Publish to folder To select a folder on your hard drive, just click "Browse folders" to choose a location. Then click "OK". You can also set 'Open web page after publishing' option.
Publish to FTP server. The FTP Location Manager window enables you to define a number of connections for use when uploading your web site gallery to an FTP.
Step 4: Add video inside your own page
Easy HTML5 video will a special code. You can paste it in any place on your page where you want to add video.
* Export your video using Easy Html5 Video in any test folder on a local drive.
* Open the generated index.html file in any text editor.
* Copy all code for Easy Html5 Video and paste it on your page in the the place where you want to have a video (inside the BODY tag).
Related Articles;
SWF Converter for Mac, convert SWF videos on Mac
How to convert Flash SWF files to animated GIF
SWF to MOV Converter Mac, convert SWF to MOV on Mac
SWF to MP4 Converter, convert SWF to MP4